She and I and the Sunset
October 17, 2010
The sunset
Light dying
And casting over us
Shadows.
Shadows of
Uncertainty.
Shadows of
Memoir.
They creep upon us
And we laugh
Then fall in solemn silence.
We look to the sleeping baby
Innher arms.
The baby is two.
She is
16
I am
15
Our childhood seems a distant imagining,
As we force alcohol soaked fruit
Down our throats.
Her daughter so precious.
Our futures not so malleable.
And our past
Pasted sloppily
In the scrapbooks of our minds.
Then in silence
We watch the last sunset of our youth.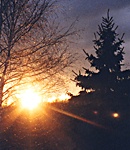 © Christy S., Germantown, NY