The Girl I Dreamt Of
December 5, 2010
Maybe I've fallen for someone you'll never be
But I like who you are, and that's a start, right?
I'm afraid we'll never find out, but it claws away
Pulling my mind at the seams.

Don't get me wrong, I want to believe, I do,
But I know it'd be better to just forget you
To run away and never let you in.

But I shared laughs, smiles, secrets
Together and yet so very far apart
There I go again, forgetting reality
Losing track of who you really are
A girl who will hurt me.

You will tear my heart in half
You will laugh at my hopes and dreams
You'll call my words a waste of breath
But I'll be inspired. I'll work harder.
Not for you, and not for anyone else.

For the first time in my life,
I find myself running from the future
I've spent years running from the past.
I'm conflicted, torn between risk and reward
And I am not the only one.

Dozens have probably fallen under your spell
Hundreds? It doesn't matter, it hurts to think about.
A bizarre pain in the waiting room
Relapsing into my old diseases
I've searched desperately for a cure, and when I found her
I now push her away. I do it to myself.

Perhaps I need a goal, a dream to aspire for.
A motivation to create, to improve myself.
Is that what this is? Are you merely there to test my faith?
Do I have any faith to test? Do I deserve any fate but my own?

When I dream, we don't speak. There is only bliss.
I search my thoughts for what to say, but there is nothing.
And when I awake, nothing. Expression leads to sadness leads to expression.
Moments pass, and still nothing.

A wave goes unnoticed, a smile unreturned.
Your warmth vanishes, and I see your cold, merciless, true self.
And I want to know more. Damn my curiosity.

The bizarre ramblings of a lost soul,
Tempted by fate with his own destruction.
Would I really destroy everything for you?
I'd hate to find out.
I think all I want is a sign.
A word, a hint. That you understand.
All I ask is that you understand.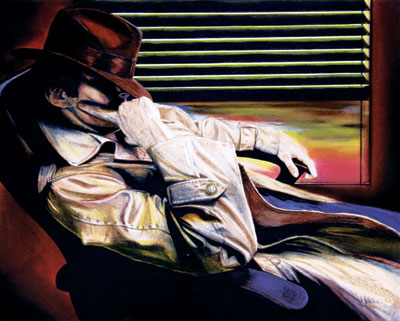 © Mick G., Bellevue, NE