Butterflies
December 14, 2010
On a good day,
words come effortlessly.

They pour out
each letter on the tail of another.
Your pencil needs sharpening

But on a bad day,
The words you need hover above your mind.
Butterflies in the wind,
Just out of reach.

On a bad day,
You stare blankly,
at the eternally blank paper,
So white, so clean,
it taunts you.

On a bad day,
you wish for a butterfly net
or anything
that could reach up and grab
a single idea.
And you inhale the stink of frustration,
seeping out of your fingers


What do you do,
when you don't know what to write?
When every tiny scrap of an idea seems
babyish,
stupid,
not just right?

You write.

Every letter weighs a thousand pounds,
and you feel the heaviness as you try and stick them to the page.
Either that, or they are light, and flighty,
They never ring with rightness,
No matter how many times you erase them and write them
Again.

But you still write,
holding up the heavy words,
and pulling down the light ones,
until it all pulls together,
a mediocre mess.

At least the page isn't blank anymore.
And slowly, with time,
A mess can become,
a butterfly.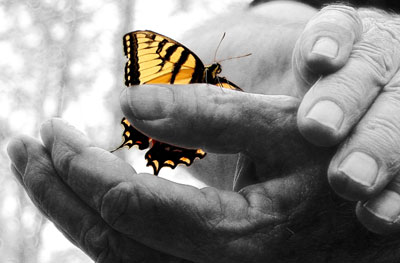 © Katie K., Macon, GA