Me, Myself, and I
January 10, 2011
Hair draped over shoulders like the curtains of
Old, majestic rooms, cascading through the air like
Water falls over land, with waves that fall
Upon each other like ravenous ocean currents,
Crashing hungrily upon the sand.
Eyes are whirlpools of color, pulling you into the
Deep shades of gray and green, but you're lost in
The colors surrounding you, and as those lashes blink,
Lips crawl upward, thick and real, but worn and timid,
Nonetheless. This smile has known hurt, but it has met
Its friend laughter, as well. And as the smile grows,
A flushed face, like an opened door, greets you
Like a welcome mat, as you enter her mind and world.
Falter, and her hands will catch you, keep you steady,
Young and new, but sewn delicately within the creases
You'll find strength and understanding keeping her
Together. Reach out and feel her pulse, a heart that
Pumps the life that flows through her veins, a network
Of youth just waiting to find out more about the world,
Striving to push itself farther, because there's so much
More this heart can accomplish. The beat it follows is
As real and constant as the continuous rising and setting
Of the sun, with health that far exceeds any bony
Structure found in a glamour magazine. Imperfections,
Of course.
But real.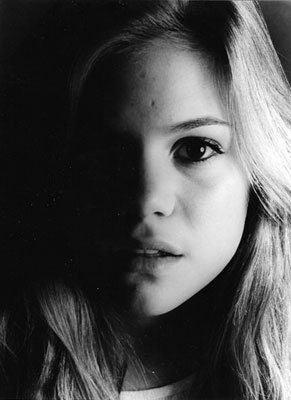 © Michelle M., Plainview, NY