Embracing Me
February 10, 2011
I've been told I'm a pain,
with a voice like scraping metal
nails on a chalkboard. I'm
no singer, and I don't
care at all what you say
'bout me.

I'm built like a vase,
large at the bottom and
skinny at top. My toes curl
down at the tips from years
and years of dancing.

My hips are scared
the Doctor told me,
like any good hockey player. That's
how he knew. My bones don't lie;

they've been through lots.
And although my years will tell you
different, I've been through lots
too. I know that I'm not the same
as girls that flaunt in shoes
with heels that raise them tall,
and dresses that swirl and twirl
around them like an arching wave.
I know that I don't act that same
as people down the block from
me.

They crack jokes sometimes,
but I don't care.

I don't care what you may say
'bout me.

I don't give my time to those
who don't deserve it anyways.
I've heard of Mary, and Jesus and God.
They made us apparently.
I wonder how they did it. I don't believe
in that. But sometimes it fits right
where I can't prove nothing else.

I like those days, when its cold
from rain but still bright and sunny.
Those days my eyes turn orange,
like the fruit orange. I don't get why
its called 'orange.' How can something
taste like a color? The world confuses me.

You confuse me, words
on a page confuse me.
Words spoken confuse me,
people confuse me,
life confuses me.

I confuse
me.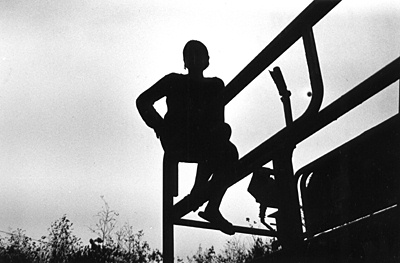 © Bailey C., Marblehead, MA