Zero Eight Hundred Hours
May 1, 2011
I'm not scared anymore.
Leaving the one place that I called home for so long
Forces me to remember the sweet smells
Of vanilla and sea breeze I'm leaving behind.

I'm trading that in
For a life of grind, grease, and sweat.

I dream of war as I sleep each night.
I see the camouflaged tanks and rust-colored guns.
I watch the men beside me fire their rifles,
Stone cold expressions on their dirty, grimy faces.
Their eyes overflow with determination.

The smell of residual gunpowder is in the air.
I'm afraid of pain.
I'm scared to look downward and see blood
Trickling from a bullet wound.
I'm scared to have the pain hit me hastily
And spread like wildfire
On my body.

I'm dreaming, but it does not feel so.
When I open my eyes I know the pain isn't real.
The men with guns aren't real.
The tanks aren't real.

Dressing slowly, my uniform slips
Over my tan, sun burnt skin.
After months of training, I now find it easier
To slip on my dirt encrusted boots quickly,
The pain from my blistered feet finally numbed.

I reach up to run a hand
Through my hair,
Forgetting for a moment that I no longer can.

When I pause in front of a mirror,
The young man I see staring back at me
Wears the American flag on his uniform proudly.
For the past eighteen years, he has been afraid.
But not anymore, not today.

We deploy at zero eight hundred hours.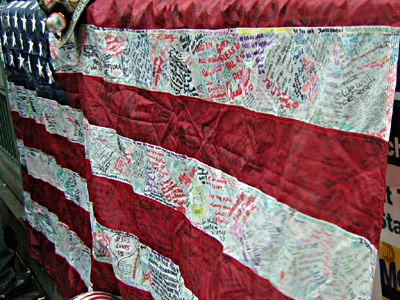 © Brittan S., Chino, CA