A Romantic Death
June 11, 2011
You speak to me,
Your words floating around you,
Blue, black, and green.
Changing in color and shape,
They rush towards me.
Your words choke me,
Making it hard to breathe.
Suffocating under your sentences,
I fall to my knees,
My eyes watering.
Turning a fiery red,
Your words burn me.
They burn me in my heart,
Leaving a hole behind,
One that cannot be mended.
You walk away,
But your words stay behind.
They guard me
And they choke me
Until there is nothing I can do but lay there crying.
This hole in my heart,
Filled with your hurtful words,
Does not mend.
It burns as if a fire has consumed me.
I walk along the bridge this rainy night,
And I look over the edge,
Into the crashing waves of the river.
I climb onto the railing,
Waiting to jump.
And again,
I hear your words,
But they're different this time.
Your words float in front of me,
Pink and purple and yellow.
I turn and look at you,
And your face wears a sorrowful expression.
You yell at me,
Pleading with me not to jump.
I make up my mind,
Standing on that railing
On that bridge.
I step off the railing,
Into the cold waters of the river.
I hear a splash,
And I see you under the water with me.
We both surface
And you hold me tight.
You whisper your apology to me
As we try to stay afloat.
With the rain beating down on us,
And the water pulling us under,
We can no longer stay above the surface.
Under the water,
I see your face,
As fearful as mine surely is.
I hold you close,
As you do the same.
The air escapes our lips,
As we say goodbye with a final kiss.
And the police find our bodies a week later,
Two miles away from the bridge.
"It was a dreadful death."
They say, but in reality,
It was the most romantic death anyone could wish for.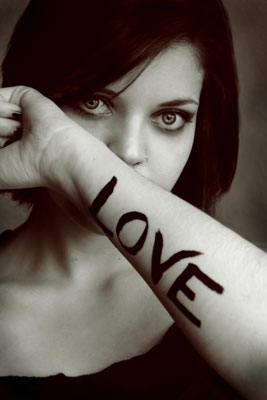 © Michelle B., Blairsville, GA