Back to 3rd Street
MAG
June 1, 2011
You hold out your hand for another card but you're
Tired of the feud between the black and the red
And the beating background of clanking yarn needles.
It is five o'clock and already the food is crumbs and needs tidying.
A card table and a stack of books means mess but when did it
When did it get this way?
Was there snow sailing across the lawn or were you
Dreaming of street-bound ice skates behind corner stores?
It's a glimpse of winter and you're gliding back to
The first place you ever called home. It's waiting.
Candy you can eat, liquor you wouldn't touch and
All the memories of Third Street kept in dusty corners of a proudly purchased house
Roam free.
Mother dressed in church linen.
Father in Sunday light blue singing, singing,
Singing a neighborhood favorite echoed from block to block and back, back,
Back when you chased the boys behind the school without
Worrying how your life will be when you catch one.
Then there was the day when
You caught one.
So you hung up your skates and left
Left Third Street, in love.
Floating on a new happy.
But when did it get this way?
When did eight blocks turn into 80 years away?
You wonder as you hold out your hand for a card but
You can't take a card because it isn't your turn.
Looking down at what you've been dealt, you only see
The black and the red.
Only hear the clank of yarn needles.
Only see crumbs which mean mess and suddenly you're so far
Away from your future when you will
Be free of stiff joints and a heavy heart.
When you will revert to ice skates and Sundays.
When you will take off running, running,
Running back to Third Street.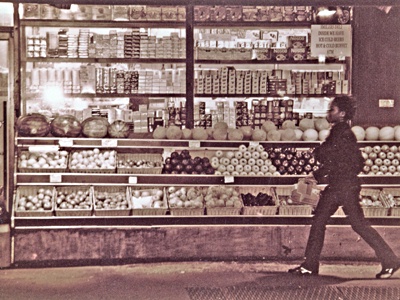 © Patrick K., W. Springfield, MA