Premature.
June 2, 2011
When will it all go away?
When will I be able to see clearly?
The scars are still prevalent, in sight as well as mind.
I still feel them.
I still feel the ghosts of those shed tears.
Of those purposely-released drops of crimson.
And sometimes I miss them.
Sometimes,
I wish those ghosts were alive.
The ache is still there.
The pain of not wanting this anymore.
Of not wanting life anymore.
I have one strike.
I'm crazy.
Depressed.
In agony.
---------
But don't let anyone see, you confused little girl.
It's a phase-you're fine.
You don't need those hospitals, those doctors,
Or those shrinks that all quit on you.
Just like everyone else you've ever loved.
Don't you fall in love again; you'll just be abandoned.
Used, then thrown away.
What do you know about anything?
You're so young, so premature.
You don't know what pain or longing really is.
-------------------
But yet I long for skipped heartbeats.
I long for arms to hug me, and say "it's going to be alright."
I long for a core that doesn't consist of
Buried misery.
And it pains me to know those things will never be mine.
So I'll shut myself off.
From reality.
From love.
Because love=pain.
And I won't feel anything anymore.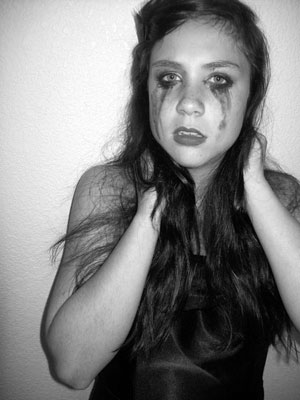 © Tiana D., Monument, CO