This is It?
June 21, 2011
I unwrap the gift.
A sweater?
Seriously?
Instead of rolling my eyes,
I smile,
Hug them,
Paste a fake smile on my face.
"Thank you."

That ugly, chunky sweater
Sits there,
Sluggish and formidable,
An indescribable color,
Like when I mixed
Peanut butter,
Jelly,
And red food dye.
I groan.
I will have to wear that,
Next time they visit,
Won't I?

But what if I were
In the North Pole,
And I fell off
An iceberg?
What if I got hypothermia
And nearly died?
That gross sweater
Might just save me,
If I wore it to the North Pole.
I unfold the flaccid tangle of yarn.

So maybe I do like it.
It is a nice color,
Deep, burgundy, yet with a hint of
The iridescence of that jelly.
And the cables,
They must have taken a while.
I guess they care about me.
They took the time to knit
And weave, and purl,
All those intricate designs.
So I guess I'll wear it,
Just in case, when I am at school,
I fall into a frigid ocean,
So that sweater could save me.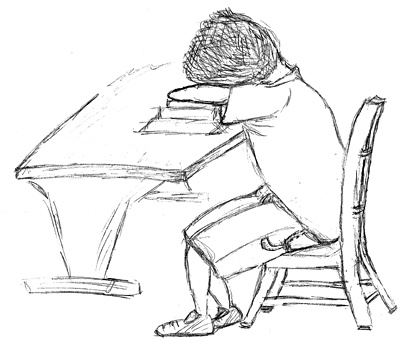 © Franziska K., Milford, CT