A Writer's Journey
May 30, 2011
*Once upon a time, there lived a dreamer in the woods.*

The journey will be a lonely one
Along an empty road
Through deserted villages
Alone

*The dreamer drew inspiration from trees and plants and flowers.*

Nobody had a say but me
When I decided this
Seemingly a decade ago
Alone

*The wildlife had a mind of its own, ever so pleasing to the dreamer's wishes.*

Friends were discouraging
Siblings were indifferent
Parents had no say and so I'm
Alone

*On a butterfly's trail, the dreamer clutched close to his chest an essential toolbox.*

But I longed for the peace
And for the quiet
Where nobody could haunt me
Alone

*This toolbox was all he needed to survive a world with no people—his imagination.*

Mine ran wild like fire
On dried wood
But I carried on anyway
Alone

*Then the dreamer caught the scene, and his satisfaction grew to overbearing joy.*

How lucky one could be
Even when inside an
Imagined story of mine
Alone.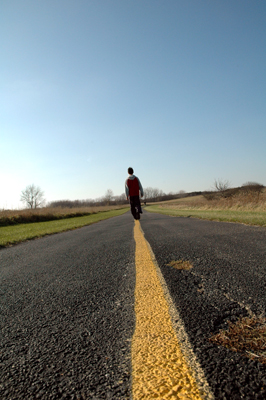 © Seita O., Palatine, IL