Calm the Storm
May 6, 2011
When will this hurricane of drama end?
I am a different person than I was
last year, so carefree like a pink ribbon.
The winds and whims of your emotion change
as the waves of the ocean, and I fear
you will never let me go. Oh, the past!
'Tis charged with mem'ries, a lightning bolt to
strike us both. Why must you still hold on to't,
when you know this "best ship" sank long ago?
It met its icy foe; the winds of change
proved stronger than our "bond" - o, unnat'ral bond!
So wondrous in the past - now I am loathe
to think on it, to breathe a word of my
true thoughts to you. I am transformed, feeling
akin to stone next to your sudden waves
and swells of feelings. Sometimes I think I'm
deformed, doomed to observe the happiness
of all. But I know I have weathered the
worst of it now - the storm has passed, and I
have proved my strength, no easy feat when you
pour on the guilt. Sometimes I feel the weight
of it on my shoulders; surely Atlas
himself could not bear the immensity
of guilt I feel. And yet, I know there is
nothing I did to warrant your blame and
accusations. Oh, friend - if that is what
you are -, I have one last request of you:
tell me, why did it all matter so much?
The swirls and whirls of your emotions are
too much for me to bear. Now out of this
curs'd vortex do I climb, blooming like a
daisy, warm in the fresh sunlight of truth.
I will keep my silence, waiting until
the glorious summer will calm the storm.
At last.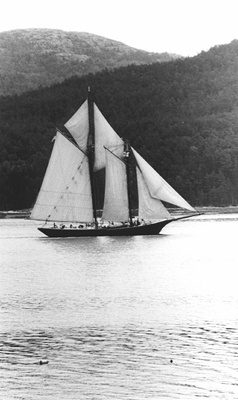 © Steve S., Marblehead, MA