Music Lessons
May 4, 2011
Would you teach me to play guitar,

if I asked you?
That's what my mother suggested.
She does not mind that we haven't had a
direct conversation in years,
or that I am too frightened to reconnect.

(Are you?)

We've spoken briefly, which is how I know that
you're always playing.

Guitar, that is.

(At least, so said your mother,

who told mine.)
And how childish is that? We have stooped

(or, at least, I have)
to waiting for our parents to speak.

So when in passing I mentioned that I would like
to play guitar, though I have no idea how I
could fit anything else into the day, and

my mother mentions this,

I blush

and stutter

and make excuses.


As usual.
Why must I make excuses to not talk with old friends?

But… would you? If I asked you to teach me?
Would you pick a spot to meet after school?
You would tease and bully me relentlessly
if I said I was too busy.

(Which I was.)
But this is unnecessary,

because I really wish to come.

"Hey, Coach? Yeah, I can't make it to practice today.

Family emergency? Yeah. That's it. A family emergency."

(After all, music means nothing to athletes,

unless they're pumpin' it up before the Big Game.)

"Hey, sis? Can you feed my horse for me? I'll be back later."
Where am I going?
"Nowhere of consequence."
Yeah, right.

Once I used my silver tongue to set me on my way…
might we meet at your house, which is quieter than mine?
Whatever the choice, we would sit,
you would talk, and patiently
correct my finger placement.

(Or maybe just make a dry remark while

gently placing my fingers in their proper position.

I would blush.

Stutter.

Fix my fingers.

And play the note.)

And when I hit it, the note of no return?

You would smile.
A flashing grin I rarely see, but still remember,
just as I recall the color of chocolates and fresh spring soil,
which make up the palette of your eyes.

(Did I mention I would blush?)

When it's warmer and I improve

(because with your tutelage,

I'll be practicing whenever I'm not with you)
we'll head outdoors. You usually rock an electric, but
you can borrow my mother's (unused) acoustic

(unless you have your own, that is.)
Again, we haven't spoken properly in years, so
it's only thanks to your Facebook profile picture that I know even this.
Armed and ready, we'll settle in the grass,
hair teased by wind, and then?

Then we'll make music and play songs to the tune of friendship
while crickets sing the melody
and a breeze provides accompaniment.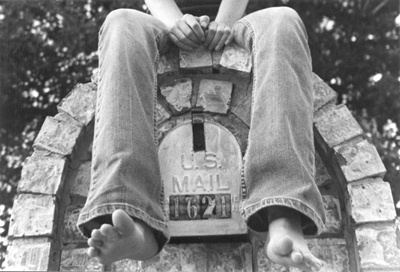 © Kris B., Lewisville, TX