A Real Man
August 1, 2011
he's tired now, from the labour of caring,
his heart is pounded to the brink of explosion
and his muscles are worn down and ripped,
each waiting to be rebuilt stronger than before.
his lips are dry from the heat and his skin wet,
he can hardly control what seeps through
the void between his lips known as silence.
he begins to share like he has never shared before.
it's in the way he sits and holds himself.
i came for the view of the open sky,
rolling tides of life swimming along the hills,
and sunsets that painted my skin with chills every night.
but the most beautiful scenery is the sight of the
crack of human flaw into which you can stare at
exactly who a man really is, a boy.
lace your shoes up, kid, you've got a long way to run
if you are gonna bother trying to escape the fact that
you don't really know anything at all
and that you aren't as strong as you thought you were
because her words stung like a bee hive
but all you claim is that you can only remember her honey.
I'm glad you're dressing yourself nowadays
but i think it's best that you leave your mask on the shelf
and your fake cape in the closet to collect dust
because a mask will only make your face sweaty
when you're flying so close to the sun
and your cape with only get caught in the tree
that you rescued that poor girl's cat from.
don't be afraid to pick that girl a daisy
because she's willing to admit that she's just a girl
if you are willing to admit you are only a boy
who learned to tie your shoes and dress yourself.
keep talking about how working with your hands
make you feel closer to the earth that God gave us,
because i hear a tale about a boy playing in the dirt
and picking up worms of indecision that slips from your fingers.
grab your pale and bucket and dig a hole
for all your masks, capes, and inflatable muscles
because i hear a young boy telling us how teaching a young girl
how to read feels like an echo of joy inside his chest.
you're just a boy trying to be a man
but no one likes a man because men don't exist,
only boys wearing sunglasses and bluffing chips of confidence
but the boy i see, with his shoelaces tied neatly,
with a daisy he trades for a smile,
and with a pale and bucket that he uses to dig for
golden starfish along the beach at high noon,
has a royal flush.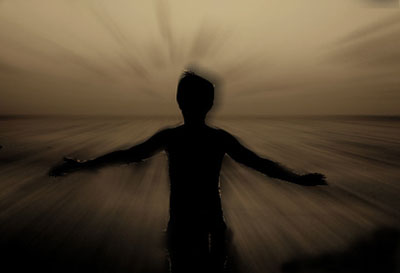 © Brian M., Fishers, IN