Alone
July 22, 2011
Ignore me.
Push me down.
Yell at me
With your hateful words.
It doesn't matter anymore,
They all make me feel the same way.
I'm alone in this world,
No matter what I think.
I'm the only person like me.
I'm a unique person,
And sometimes that scares me.
My mind is very weird.
It thinks up very weird scenarios
That I'm the star of.
Since I'm the only one of me,
It also means that I may or may not
Have many friends.
In drumline,
I may as well not be there.
I'm pretty much invisible,
And it's driving me crazy.
I'm left alone,
And all my close friends
Are either on a different instrument,
Or aren't in band.
Being invisible isn't all that bad.
You don't have everyone following you
And wanting to know what you're up to.
But being invisible means fewer friends,
And more time to yourself.
The more time I spend by myself,
The crazier I get.
There are times I think
I should be in a mental hospital,
But I never tell anyone what my mind is like.
I don't let anyone get too close to me,
Afraid I'll get hurt
If I tell someone my secrets.
Alone in this world,
There's no escape.
Just open up a door to another world,
And there are all your true friends.
In this alternate reality,
You can dream of anything,
And be as crazy as you wish.
You're not alone here.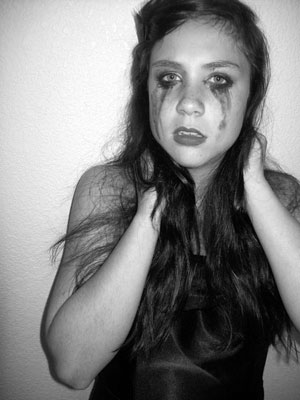 © Tiana D., Monument, CO