STALKER
August 9, 2011
i get it.You might have feelings for me and i have feelings for you too. I don't even know why,i just do. truly,I do. Anyhow, please understand when I say that i put you on the same basket as any other guy, and the basket that I place all guys in is a really filthy one. You're a stalker. You stalk me all the time. Shouldn't I be freaked out by that? I guess so, but I don't get scared. I really don't. I'm never freaked out when you stalk me, instead i find myself liking you more. I wonder why. Oh,I know why don't I? It's because I trust my instincts a lot and my instincts are telling me that you mean no harm. Sometimes I even think that It's attractive but to be honest,at the very first I thought of you as a creepy guy but as the elders like to say"when a guy really likes you he tends to do things that make him look foolish." Again, I really do get it, you want to show me that you care about me or like me as you have stated so many times but I just can't trust you. you haven't given me any reason not to,but I don't because I can't trust guys. Especially the ones that tend to have interests in me. I know you can't hear me saying these things out loud while typing or feel what I'm feeling, but I apologize for discriminating guys at such level. I wish I told you how I felt about you. I'm not looking for excuses but it truly is not all my fault that I discriminate guys. NO. It is my fault. It's all my fault because i ALLOW myself to be the way I am, but I don't know what steps to take or what strategies to follow so I can become normal, not physically but emotionally. I really like you. I'm sorry I'm letting what others have done to me separating me from you, but you have to understand that I made up my mind. I made a decision not to trust guys and that sure is going to be hard for me to let go of.
I'm asking you, please don't wait on me. Don't loose your energy on stalking me. I'm so not worth it. I'm like shattered pieces of a broken mirror that used to mean a lot and used to be pretty useful, but once it broke there was no hope,there was no other piece from it that could be used to even see the iris of an eye. that's how broken I am.
I'm really sorry and I really like you.
My dear STALKER.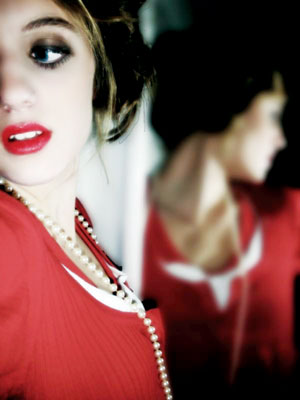 © Matt S., Taylorville, IL