Piggybank
September 6, 2011
Grandma told me that I would know that I'm in love
When my piggybank is full, so I can buy her a ring.
I obviously started saving immediately, every cent.
I found 1,362 pennies in the couch cushions,
Worked part-time jobs for tips, mowed lawns,
Painted fences, watched babies, watched dogs,
Anything I possibly could, just to earn a dime.
One time, in junior high, I met a girl named Jenny.
I worked twice as hard, begged for a raise in my allowance.
Sure enough, it was a hair away from the tipi-top
When I dropped it, there was change everywhere,
All of my work spilled out on the ground,
My older brother mocked me, my sister helped me pickup,
And Grandma bought me a new one, time to restart.
I resumed saving in a perfectly timely matter,
High school came with more girls, more paychecks,
And clumsier hands; Grandma bought me several new ones.
Some took time, others seemed to break instantly.
And then, just before I planned to move my coins
From a porcelain farm animal to a real bank,
You gave me a cute, little, pink, bowed piggybank.
I filled it in no time, with no effort, no labor,
I just caught the nickels off of your blinking eyelashes,
Collected the dimes of your forever rolling laughter,
Stacked quarters from your awful punch lines,
And sucked golden dollar coins off of your lips.
Small piggybank, big saving,
Cheap ring, priceless girl,
Just like Grandma told me.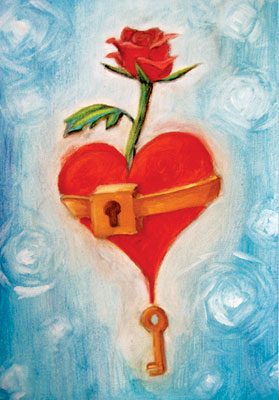 © Louisa L., Pleasanton, CA