That Girl
September 8, 2011
There she stands.
Silently crying on the inside.
They hugged her.
Talked to her.
Thier questions were silent.
The hugs weren't long enough.

She is alone.

There she sits.
Contemplating death.
How is that contemplated?

Her eyes are open, but her heart is closed.
She feels darkness.
She failed again.

She is such a disappointment.

She knows God could never be proud of her.
She is ugly.
Imperfect.
A liar and tired.
Don't care for her, she isn't worth it.

She is worthless.

She talks too much.
She doesn't talk enough.
Her mind goes to another place and people get mad.
No one really gets her.
She is different.
She is crazy and weird.

She isn't understandable.

Who is she??
No one knows.
But a piece of her lives in each of us.
Only God will be with us when we are alone.
Only God knows her true worth, more than diamonds.
He is SO proud of His child.
He understands.
He created.
He made her in His image.

I am Loved.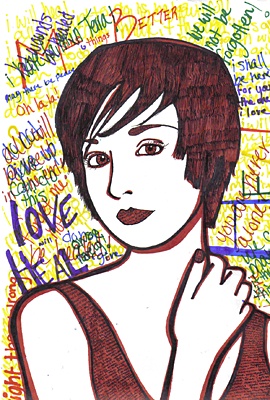 © Sara D., Aiken, SC