Solstice
September 26, 2011
on certain winter days
when the light hangs just so
reflections become shadows
and smoke slides through mirrors
like long-fingered hands
singing song's of winter's white.

on certain winter days
my heart falls so low
it scrapes the blistering core of the earth
where the demons of thoughts
flooding too quickly for me to swallow
revel in their dance of ashen despair.

on certain winter days
i step in the embers of fire and wax
and candles swarm and bead amongst lonely yellow-eyed owls
that sing in the wine-bottle darkness of December
where snow lines the floor like a carpet of diamond
and the world is alive with crystal sound.

on certain winter days
the world shimmers with pumpkin and spice
and green rain forest hues become an oasis of fog
the lily pads smile and sigh from their
darkly mysterious ponds of deception
where catacombs lurk and quarrel with light.

on certain winter days
the rain is a comfort, silver and pearly like childish dawn
i am effortlessly lost amidst fairgrounds and rowboats
the playground games with their chipped garish paint
stare with wide painted eyes at the ghost of what once
existed but now has faded away.

on certain winter days
thoughts fly with the speed of a star
bursting through the lonely miasma of space
into lucid new worlds of dreams and of misguided light
where the sun's rays are broken and a thin silver pin
pops the balloon of a heart so that crimson fear hisses out.

on certain winter days
scarlet blood hisses out of a popped balloon sac
and blossoms on the snow like the shrine of a rose
ice hangs from the trees and reflects the world in squares
and little birds sing against the bare blue sky
and the air is cold and the forest is deep and shimmers with snow.

on certain winter days
i occasionally am full of thoughts and hot air
and it chases me between windows and doors and haloes
and i float up past the weblike lonely branches
into the cloudy sky to the silver snowy endlessness
that means the hope of a possibly different tomorrow.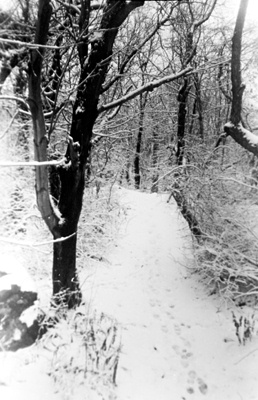 © Kelley C., Marblehead, MA