A New World
October 5, 2011
Shattered light bulbs and flickering fluorescents,
Twirling twilights dwindling to the jolting flashes
Of this swallowing eclipse that's diluting the sky;
Hope comes in the purple envelope of black pages,
White letters, and sealed with the kiss of green lipstick.
The moon comes at noon to shade hope in orange men
Following blue men with fast music and slow steps walking
Into the hazel leaves falling in the spring from an evergreen.
Porcelain squirrels carrying furred dolls back to their homes
In hollowed trees hanging from the underbelly of the cliff.
The gold man sits at home with his ruby daughters and amethyst sons
While the diamond mother glides home on the back of a scaled eagle
As its mane whips upward in the melting air of kissing currents.
Lilly pad girlfriends and marshmallow boyfriends lay argyle blankets
Down on the graveled beach, soaking in the seven sunsets of bliss.
Violet light slithers its last heat along the swimming breath of ocean.
Blue claws its light as its father perishes behind the sheet of sleep.
Red bleeds its disease of its last life force before fading into the ground.
Green sways into the dissolve of the clouds that take its light away.
Pink swoons the lovers as they pick its fruit and carry it back to bed.
Orange sizzles its last crackling drops of its entity whispers into nothing.
Yellow melts into rings of gold that fashion themselves below the edge.
Forward looking owls and howling roosters come out to greet the
Black-pearled moons of three and their infinite specks of rainbow;
Stars only exist in the prisms falling from the crying eyes of the heavens.
Bats whisper to the dolphins and they meet for an evening flight,
The dolphins reveal their feathers, and in swimming, the bats open their blowholes.
A world of infinite possibilities and fuel wisp through my chest,
Bouncing off of the blue flame that she lit behind these cage bars;
Entire worlds exist in the sparks exploding from within my solar flare.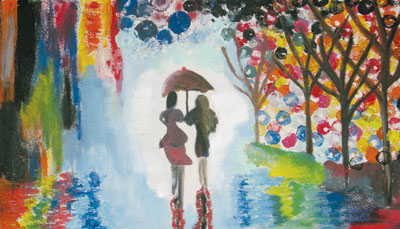 © Uzair M., Faisalabad, Pakistan