Footprints
November 1, 2011
Footprints wrote within the dirt,

Telling me to follow the story.

But I don't know if I'll like the ending.

And yet I'm entrigued to find out for sure.



The footprints are wrote farther on,

Back in the darkness of the world.

They go through a pond, dark and murky.

And the story gets deeper.



Through some flowers, smelling so sweet,

The story brings a smile to my face.

But then we turn, and there's hill,

And the climax begins.



Climbing higher and higher,

The story makes me impatient.

But the fall down is easier than the climb.

And I find myself in flowers again.



The footprints have dissapeared.

Now where will I go?

I've wandered for so long to know what happens,

And now I'm lost and confused.



But then I hear a soft voice,

A whisper coating the wind.

I turn and see a prince,

And he's walking amongest the flowers.



I walk alongside him,

And our footprints mesh together.

This isn't the ending of the story,

It's just the beginning.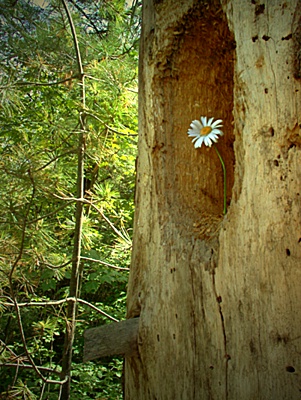 © Anna R, Sudbury, ON, Canada