Pieces that Fit
November 17, 2011
I was the girl with once-purple hair
who walked with a spring in my step and
a laid-back cynicism and
a black leather jacket, the girl
with a once-shy demeanor who tried
without trying, once,
but now tried, was greeted
with small smiles and beginning-to-accept expressions.
She sang in the basement bathrooms when no one was there
and muttered to herself when no one was looking
but under their gazes she always had
a half-smile and a measure of removedness
in her eyes, and you,
almost the best, so close,
you were the boy with a once-confused attitude
who was too old for his classmates and made do
with the sophomores and kept to his friends, the boy
who smiled without trying but responded to talk of musicals
as well as baseball, his hazel eyes deep like an adolescent dog's.
He laughed alone while walking in the fall chill
and loved reading plays
but at the lunch table laughed at swears
and fit in among them, among his, among himself,
and you, you were the boy who sang in the hallways
but only when I walked behind you.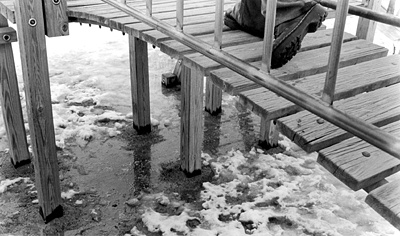 © Rebecca S., Marblehead, MA