Can You See Me?
November 23, 2011
I thought photography was supposed to be more personal.
But there you are,
Slinging down your cameras, clattering your tripod
So I flinch like a hurt cat.
The camera dwarves your face,
Making me wonder,
Can you see me?

I am thirty-three years old.
I gave myself up to dance when I was ten.
Pink butterflies, those ballerinas.
I gave all I could -
My breakfasts, my afternoons, my feet.
They wanted more.
Can you see me?

Past my jutting collarbones -
Pale ridges in an arctic waste.
A decade of skipped dinners,
But elegant in a lace leotard,
Below a bun constructed of hairspray and sheer willpower.
Can you see me?

Beneath the folds of my cheerful tartan skirt,
My legs are nothing but strands of muscle,
And even that is being stolen from me.
When the sinews around my knees crumple,
I will have nothing more to offer.
Then they will steal my eyes.
Can you see me?

Did you know that,
Yesterday night the joints in my fingers wouldn't bend,
My feet wouldn't arch and my leaps tumbled heavily
Down like a landslide.
Each lilting movement
Brought tinkling piano tears to my eyes.
Can you see me?

Teenagers, milk-white babies,
Flitted around me,
Their toe shoes pale and yet unbroken,
Unconsumed.
Mine are smudged with resin,
And still they berate my toes.
Can you see me?

I hope you appreciate the care I took with my makeup
This morning, bloody lipstick and spidered eyelashes.
Harder now, to disguise the crepe paper eyelids,
The slight sagging at the base of my neck.
Taut veins spiral across my ragged-nail fingers.
Can you see me?

You thought ballerinas were clean white soap bubbles
Not vampire victims sucked dry
Well, if you are searching hard enough
Through the warped, crack lens
You will see me.

I will release you from your blindness.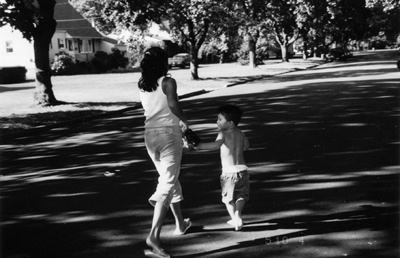 © Angelica M. Pequannock, NJ