Flight of a Teenage Girl
December 22, 2011
She runs from pain like she hides from the truth.
Honesty, integrity; things that aren't her roots.
She dreams of wings and flying away
Hopes that somehow there will be a better day.
She prays for peace as she fights,
Waiting for her miracle and a shining Knight.
She cries inside as she silently screams-
Oh why couldn't things be as they seemed? !
She bleeds in secret and hopes in spirit
Wishing for the end so she doesn't have to bear it.

Blue eyes hiding tears,
Green eyes living fears,
Brown eyes dreaming of a better place,
Hazel eyes gazing out into space.
The mirror doesn't tell her what she wants to hear.
The music isn't showing her a way out of here.
Those boys can't hurt her as she hurts herself.
Those girls stopped taunting in fear of their health.
Her ideas can't be broken
Her thoughts rarely spoken.
She has her eyes...
They're always lost in the sky.

She's battered and bruised inside and out,
What she wouldn't give to be able to shout.
She doesn't know who she is or what she wants
Only that in her nightmares her past does haunt.
She can't disappear or lie anymore
Hell, she's long forgotten what she was fighting for.
She keeps on pretending with her giddy smile,
Always reminded that frowning is futile.
She plays their hearts and captivates their minds-
Oh, if only they knew she wasn't so kind.

Blue eyes laughing on,
Green eyes teasing addiction,
Brown eyes relishing release,
Hazel eyes entertaining peace.
Her reflection's a lie
Her ears never hear why.
Gorgeous boy falls in love as she tries to run.
Beautiful girl steals his heart and the fight's begun.
Two sides afraid to back down.
Two sides too proud to lie-down.
Still, she has her eyes...
This time pointed on the prize.

She struggles with understanding and mercy
Not comprehending such animosity.
She walks and talks as she quietly battles
Trying to hide from the calls of the bottle.
She doesn't want this and never asked for him
Love was a feeling she assumed was a whim.
She dances on clouds made of lost hopes
Forever wondering if there is a way to cope.
She runs from the pain like she hid from the truth
Honesty, integrity; things she wished were roots.

Blue eyes full of scars,
Green eyes crying nectar,
Brown eyes fondly remembering,
Hazel eyes always pleading.
The mirror can't tell her the things she wishes to hear.
The music can't show here a way to get out of here.
He could never accept her for a secret she's kept,
She could never allow him those tears that she's wept.
Her ideas were never broken,
Her thoughts misunderstood but well spoken.
In the end, she has her eyes...
This time they aren't just a disguise.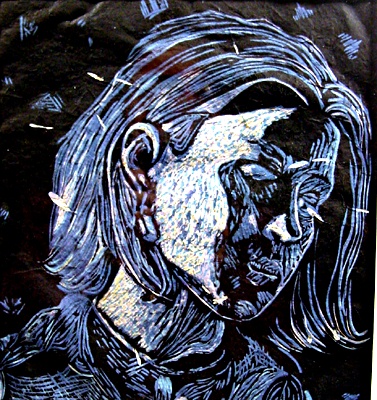 © Lauren P., Spartanburg, SC