Puffs of White
November 30, 2011
Cold.
As always.
And alone with my thoughts.
The sun is out, yet gives nothing.
Selfish.
Selfish like me.
Cold and alone and selfish.
And scared.
Scared of losing,
Of change.
My breath--
Small puffs of white.
Puffs that disappear as quickly as they escape my lips.
They're just like me as well.
Try our hardest to surface,
To be seen.
A few moments of light in exchange for an eternity of dark.
Yet I'm still stuck in lungs.
I've been walking,
As I silently slip away from them.
No goodbye's.
What's the point?
My absence shall soon be permanent,
And I will be forgotten.
Not even a puff of white in their lives.
Alone with my thoughts.
My thoughts,
My greatest enemy.
I need voices,
And messages,
And problems.
Not my problems,
Theirs.
It's easier that way.
I need distractions.
I need a constant project lingering around,
Refusing to be muted.
Not my thoughts.
I wanted to write about you, you know.
Write something about my heroin.
So addicting.
Such a rush.
Adrenaline.
You could never be a puff of white.
You'd be a cloud.
A cloud that would sweep the sky until the selfish sun sets.
Changing shapes and hues.
My heroin.
Maybe that's why I'm so cold.
Withdrawals?
Is that the name for this?
Walking.
Watching the puffs of white escape my lips.
Silently slipping away from them and into my thoughts.
Cold and alone.
Selfish and scared.
All of this
And addicted.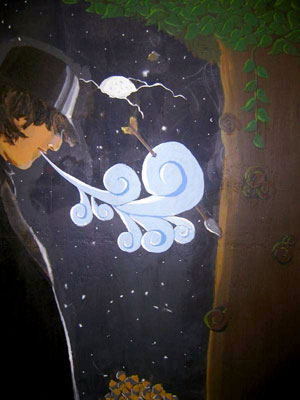 © Dean W., Hinesville, GA