Words
December 26, 2011
~~~~~~~~~~~~~~~~~~
There are so many things that I want to say to you.
Words that stick to the roof of my mouth like gobbets of glue, or sticky peanut butter
Slathered on white Wonder bread.
I choke on the nouns, verbs and adjectives, they sludge forward to the tip of my tongue
But never pass the gates of my cherry shimmer-glossed lips
Or, if they do break free, they morph as they escape my teeth
Altering their meanings, rearranging the vowels and intonation into harmless bubbles of sound
That burst and have no lasting effect on the world.
Most times, I manage to swallow the words, gulping quickly, feeling the heated letters
As they slide like liquid fire back down my throat, to roam my body
Till they settle somewhere right beneath my skin, burning constantly.
I wonder that I am not covered in tattoos all over; that I am not a human book
Words scrawled across my skin in my hasty, thick, and crushed-together handwriting.
It would actually make things a helluva lot easier, you see
Because then you could simply read my arm, leg, or shoulder
And I wouldn't have to fight this loosing battle,
Constantly searching for a way to make my doubting brain and defiant body work together.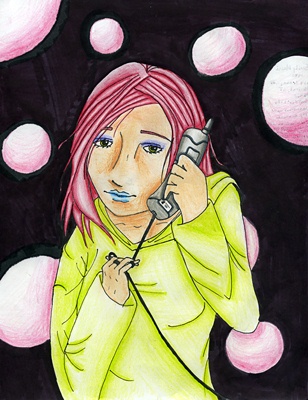 © Emily M., Milford, CT