This Is Me
December 17, 2011
She wears all black
Eyeliner as dark as she can get it.
A bold statement against her pale skin.
Her hair dyed black,
Falls straight down.
Hiding her beautiful face.
A face full of sadness.
But no one ever notices.
Her mask is impenetrable.
Her eyes show pain unimaginable,
Yet tears never fall.
She's built up too many walls.
Walls even she can't break through.
Not anymore.
It's been too long.
The scars she hides.
Beneath jeans and long sleeves,
Self affliction at it's best.
No one knows,
How could she explain?
How could they understand?
The razor that makes her feel better?
That makes the beautiful scars?
They'd never get it.
She'd be a freak.
At least now nobody talks to her.
If they found out she'd never hear the end of it.
She wouldn't be able to handle the looks.
Looks of pity,
Revulsion.
People trying to help,
People afraid to.
Afraid to even look.
She just couldn't take it.
So she keeps it hidden,
Hidden from the world.
Keeps up her mask,
Her walls,
It's better that way.
Cuz if nobody else knows,
The only one I'm hurting,
Is myself......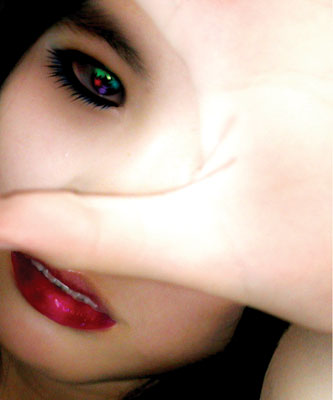 © Victoria W., Arcadia, CA