Recess Games
December 17, 2011
Do you remember?
Those chilly October mornings,
When the other kids tossed a football, argued over a home run,
We'd spread our imaginations as far as the playground would stretch.
We turned a tree into a castle, stepped through the portals between the swings,
And with soaked mittens, turned the mush of snow into
A glittering magical wonderland.

We were everything we could think of, and more.
At once, we were a herd of wild horses,
Thundering across the kickball field.
A happy family one morning, a dysfunctional one by afternoon.
We stepped from human to fairy, daughter to grandfather,
Dragon rider to dragon slayer, Edmund to Aslan,
Neopet to Pokemon, cat to tiger.

The things we saw were unknown to everyone but us.
That stick on the ground became a warrior's sword,
And all our enemies quailed before our power.
The crack in the sidewalk was a rift in the universe,
Dooming us all lest we fix it.
As soon as the ground thawed, we dug a hole to China,
Filled it with our pirate loot of quarters,
Like in a movie we'd never seen.
The leaves swept over it as the sands of time,
Until we'd gather them up to make a potion.

A dragon hid in those woods, and we knew it—
And they did, too, though they'd never admit it.
We knew what we saw, but we knew it was meant
For only us to see.
And we'd try desperately to recreate it on our own,
Each of us searching for something we'd never find,
Not alone.

Only when we combined our magic could we see
What existed for us, and no one else.
Every so often, another would try, attempt to join us
And be like us,
But our imagined worlds hid themselves from these outsiders.
In the end, it worked for us, the Keepers of the Worlds,
The Defenders, the Magicians, the Imaginers,
The Dreamers.

I know how the story ends.
The realities that once feared us,
That dissolved at our touch,
They became stronger.
I felt it strengthen, one by one, by one.
Now a lone dreamer stands upon that playground,
Wondering when it got so small.
Wondering when they lost that spark.

They may have lost their grasp of what was not real,
Not real to outsiders, at least.
They might have forgotten, but she—
She has not.
She may hold the only magic left over from
Those schoolyard days, but
She holds it just the same.
She still imagines, she still dreams.
She still remembers.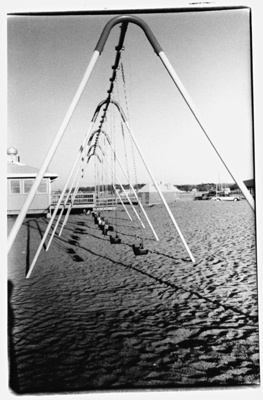 © Gina M., Marblehead, MA