Poor is a Four Letter Word. [Visually Striking]
January 11, 2012
She stands at the same spot everyday.

She has no family, no pride, no shame.

She has nothing of material wealth, yet no scorn.

She freezes due dusk, and thaws due morn.

She wears the same clothes she did last week.

She wears a tore tunic, more of a dirty sheet

Yet...

She is never alone in itself,

She lives her life through spiritual wealth.

She never cries, she has hope, she is strong.

She has never done anything wrong.

Never a moment has she thought she did waste

Because never a moment has she lost faith.





He lives in the city, penthouse, top floor.

He has plaided and studded and guilded his door.

He wants more.

He wears his black heart in all gold,

He has a soul, but it's covered in mold.

He's cold...

He is poor in health, but it never shows.

He pretends he is strong, wherever he goes.

He is never alone, always surrounded by friends.

He is up to par with modern day trends.

He wears a smile that he knows is fake.

He tries to retire, laying in wake.

He has what he needs to materially prosper,

Yet alone he will stay until he finds the Father.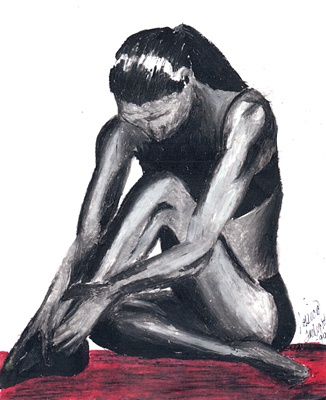 © Jessie Y., Ahwahnee, CA