The Raven
January 11, 2012
I was sitting alone in the woods
When a raven came and sat beside me,
The dark color of his little body reminded me of my present state,
It's beady eyes reminded me of all the evil things.
It didn't speak, it didn't even 'sing,'
It only sat there on the bench beside me,
That didn't matter, I welcomed any solace it would bring-
I started examining the bird some more,
It's beak so tiny but yet it sung so loudly,
I also noticed its feet; all bent out of proportion and quite gross-
But it managed to stand anyway, supporting himself.
If a bird like him 'dark and gloomy' could stand so proud
How much more could I?
Despite my issues why can't I stand strong?
But I can!
So rising on my feeble legs I stood to my struggles-
Encouraged by the little black bird,
Feeling triumphant I turned-
But I couldn't find my recent companion,
Then I heard a 'coo' above my head,
It's like he was telling me to 'spread my wings'
And that I could sing too!-I could be free!
So I did exactly as he suggested to me.
That was the day the raven came and counseled me.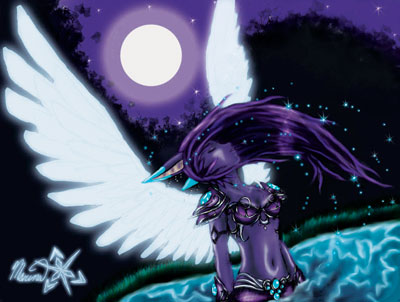 © Kelly K., Fort Collins, CO