For You
January 13, 2012
When your footsteps echo in the hallway in the morning
And you shuffle down to the kitchen to make me tea,
I hear music.
As I lie in bed, I can feel musical notes blowing in my window
And rustling the curtains like wind.
When you're making dinner, cutting up sweet potatoes just for me
Because you know I love them,
Even though you don't feel like cooking,
I hear music.
And it's not music blasting from any stereo speaker
Or being played by any orchestra.
It's the music of you.
The music that thumps like percussion in my heart.

I wish I could write a song for you.
It would be a song with no real music;
Not on prissy sheet music paper;
No fancy G clefs or fermatas.
Just your music; the melodious sound of you.
Included in the song would be the cacophony
Of our hurry to get ready in the morning;
Cymbals crashing as we collide in the tiny bathroom,
Elbows bumping as we apply our makeup side by side.
Sometimes you curl my hair for me,
Your fingers gentle on my head as if they're delicately
Hovering over piano keys.

You deserve a symphony, composed especially for you,
When you hug me after a hard day.
When my friends have left me out of their plans once again
And then told me about all the fun they had,
You sing out mollifying affirmations about how it's okay.
"They just want to make you jealous. But you're better than that,"
You tell me like a lullaby.
And then, like the most skilled conductor,
You bring my distraught emotions into harmony.
Like a stringed duet, we come together and make everything all right again.
We sit down together and pretty soon
I've forgotten about my inconsiderate friends,
And I begin to feel smoother like a violin and less like a crazy maraca.
Our laughter is full, and genuinely happy,
And it surrounds us like a beautiful melody.

Every musician is different,
And I am very different from you.
But you don't mind; you understand.
Because you need my music,
The music of me,
Which is unique from your music,
But still important.

I wish I could write a song for you,
But I can't.
I don't really know how.
So I guess a poem will suffice.
This poem isn't on prissy sheet music paper; it's not fancy.
It's nothing like a Mozart or Beethoven composition.
But it's music.
It's the music I hear when you smile.
It's the music I hear when your heart beats.
It's the music I hear just because you're alive.
I hope this poem for you sounds like music in your ears.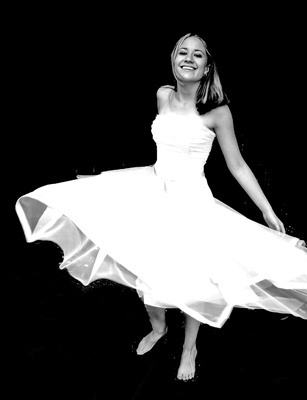 © Kara S., Walnut Creek, CA