Into the Unseen
February 2, 2012
Of everything I've ever seen,
Of every dream I've ever dreamed,
The finest one that's come to me,
Is the one when I can run free,
Become intertwined in the mind of those who are so carefree.
Then run in the open fields knowing no sorrow,
Feeling no pain.
She'd give it all to me tomorrow
Without a thought I get a gain
No questions asked
Just teaching passed,
She has a perfect heart
I don't think I could ever part
She has a blameless past.
And a knowing mind
A nameless soul
Running with the wild horses
And learning there kind
Her cunning mind obtains all the knowledge as if she were one of them
Day after day I try to learn her untamable ways
Caring about her and her passion more than life itself
She doesn't know how much she means to me
Bearing through the weeks, to finally see her that amazing day
Learning more than imaginable, growing closer and closer to the final goal
Wanting to be there more and more
Riding and falling
Getting back up once more
Pushing myself because she was my strive
My shining sun when my days were dark
The only one I'd think about when I could take no more of life
Her saying 'I'm improving' excelled my thoughts to the mountain tops
So what I'm trying to say is you make my day thank you Jineta.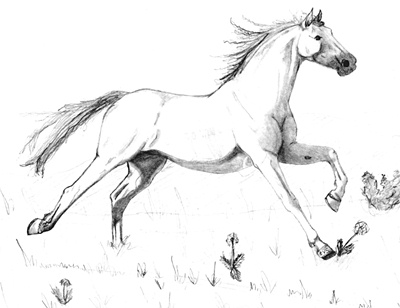 © Elissa S., Palmyra, PA