Hansel & Gretel Reprise
February 10, 2012
She sits in her chair, that little old lady
Rocking back and forth she starts to stare
Her eyes are clogged, her character shady
Would you oblige to this little old lady?
She takes your hand and turns you around, outside peaking is a little frown
You shift your weight, unsure what to do
She makes it clears in less than 2
"It's almost time for stew my dear, when I chop you up, I'll use real care"
"Oh no!" you scream at the ugly old hag
She releases you and grabs a bag.
"Enter here and you'll have fun, I'll cook you slowly my little hun!"
She cackles and howls as loud as can be
What a mistake to take that you now heed.
You grab a knife and slice through her skin, which you now find so paper thin. Lying now in a blacl blood pool, this old lady, she starts to drool.
You walk out, just keeping it cool.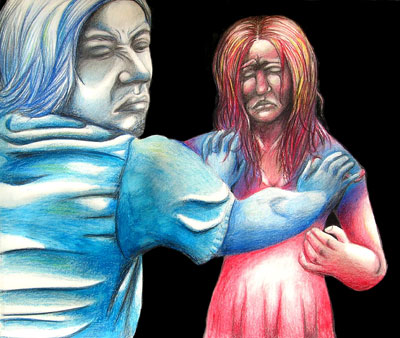 © Jessica P., Bethel Park, PA