Story Of The Boy
March 16, 2012
When he woke up the first thing he saw was
the sun.
He was born with his head
in the cauliflower clouds.
In school he was silent and they called
his mom and dad but his dad
was missing
and his mom was a hippy who thought good parenting meant
hanging dream catchers from the roof and teaching her son to paint stories on the walls
of their house.
The teachers were at a loss.
He was left alone.
As he grew he learned to make the most beautiful sounds
emerge from the six strings
on his guitar. He entered a contest
and won with his
original composition but
turned it down because he didn't care about
one thousand dollars
when his heart had already bought him everything he
wanted.
The few acquaintances he made
called this boy 'high'
in a good-natured way
because they didn't understand that drugs aren't the only thing
that let you live in a world
free of rules and filled
with the whimsical.
Sometime around then the girls started to notice him but
he didn't understand them and
eventually
they understood that
and they left him alone too.
It was a grand
shame really because
anyone would've been lucky to have him
but with all his knowledge of how to let go and
be himself
he didn't know how to let anyone else in.
On the last day of high school
he woke up for the second time and realized with a start
that he had gone through his life
with one foot out the door.
He resolved to have two feet
planted firmly in
both worlds from that day on and
he tried.
Truly.
He met a girl and they had a son
and everything thought that boy had changed for the better.
Now they called him normal
average
returned to the living.
But he was not changed on the inside.
He became a painter and was famous around the world
for the way he depicted
things that didn't exist.
He missed the world he used to live in.
One day he'd had enough of pretending,.
he kissed his son on the head, told his wife to take care and
walked into a painting where
he met the father he'd never met
before.
Are you sure? his father asked him,
making sure the decision was from his heart and
not someone else's.
The boy nodded and followed
his father into the life he'd never experienced
but had been missing all his life.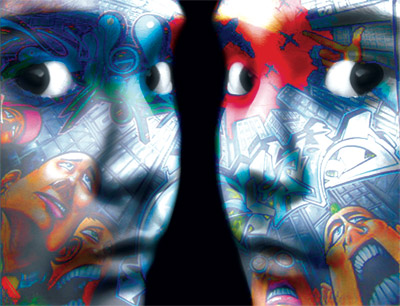 © Francita W., Orlando, FL