Adrenaline
March 20, 2012
Marie looks into the cold eyes of the men,
she cant speak for all that they've done to her.
She knows they are probably going to take her life too,
but that's one thing they cant have.
She remembers all the training her dad showed her,
before he passed away.
So she gets ready for their tortures,
feeling her adrenaline and fingers clenching to fists.
They try to grab her around the waist,
she dodges and kicks one in the face;
he lands on his back,
and that's when he heard his partner scream from pain.
The man she put on the ground looks at his friend,
he sees blood and a body laying at her feet;
he sees his friend is still breathing though.
She knows he wont get back up,
she starts to walk over to the one she kicked;
the man started to say he was sorry,
I never wanted to take your mother's life.
She knew that he could be lying to her,
so she grabbed him up and pushed him into the wall.
She said, "well, why did you kill her?"
He said, "because she was in the way of us getting what is ours back."
Then she knew what the story has unfolded to.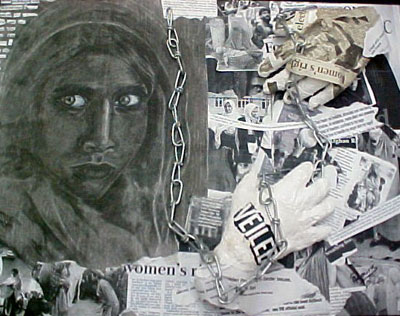 © Poornima P., Cutchogue, NY