A Five Year Old's Goodbye
April 12, 2012
A gaping hole throughout my entire body
Slowly starts to materialize
The bed is surrounded by those who love her
Yet none of them more than me

She whispers nonsense as she closes her eyes
A tear rolls down my mother's cheek
Then at last she grins as brightly as the sun outside the window
And takes her last breath

I do not think
I do not speak
I walk out of the room that has become my personal hell
I cross the bathroom door

There is my little brother
So small and innocent
Playing in the tub, covered in bubbles
Everyone has left him

He doesn't understand
He could barely even say her name
No tears wet my eyes
Yet I find it impossible to smile at him

I run.
Out to the park under my favorite willow tree
The same one I used to climb with her
Every day

I lay underneath its protecting leaves and close my eyes

They never noticed.
I am alone when I awake
It is dark and cold
And the ground is damp

I pick myself up as best I can
Stumbling across the street towards home
But I guess it will not be a real home after today
I squeeze my eyes
But the tears do not come

I pinch myself in the arm as hard as I can
But I feel nothing.
I am numb.
Completely numb.

Nothing is real in this moment.
How can it be? She is gone.
The only world I ever knew.

I fling open my eyelids and stare at the blank sky
After three blinks exactly, a shower begins
Hundreds of thousands of stars fall
I am mesmerized

My senses begin to return
And I know she sent these.
She sent the stars
To shine down on me in my time of need

I feel her close
And finally
The tears come.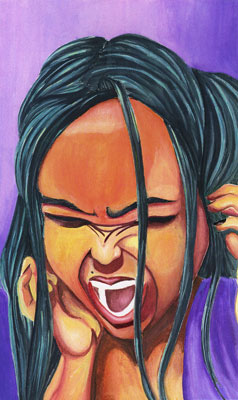 © Kriztille J., Briarwood, NY