On A Moonlit Night
April 18, 2012
Hair like the sun with a crown of flowers,
Is a maiden sitting by the castle towers.
She saw the man last moonlit night
With his eyes shining in the mystical firelight.
They fell in love at the first of sight,
When the young prince came over and they danced
On a moonlit night like this.
That was the first night of many,
And as they sat watching the moon one night,
He looked her in her clear beautiful pale blue eyes
And said as he pulled her close and held her tight,
"Like the sun in the evening sky, you are my guiding light,
I really needed someone like you in my lonesome life."
But then the day when angry words were slung around,
And the lovers were filled with a terrible doubt and broke apart
At the end of a fight, on a moonlit night.
Many a year has passed by, and both are still wasting their time
Trying to find another to share their life.
One night the lonely maiden sang upon to the stars above,
"I remember a moonlit night, full of stars and mystical firelight,
When I held my true love's kiss and fell into love's abyss."
As the silence came back and her voice withdrew
Another voice came out of the night clear and true.
"I remember when I held your hand in mine,
And how, my lady, we danced in the moonshine,
Your colorful skirts as you spun around
And was if I was lifted off the hard ground."
The maiden laughed with delight,
When into her vision came a man in armor,
Her true night came around the bend,
And she fell into his arms. On a moonlit night; once again.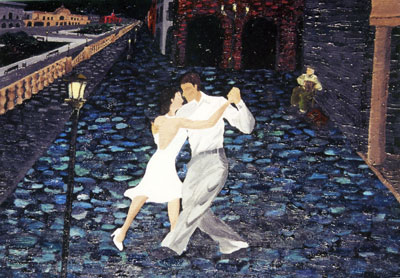 © Elizabeth M., Kannapolis, NC