Good-Bye Wish
April 18, 2012
I'm running out of time,
and you need to hurry up before-
The hourglass gives up on me completely,
so hurry up; come pull me out,
cause my life is coming to its end and its near.
My heart has already burst to flames,
my life slowly slipping away
and if you don't hurry soon,
all that running will be too late.
If I close my eyes,
I may never open them again.
I may just slip right through your finger tips,
and you'd blame yourself for the life that is slipping to an unknown place.
I know you would wish to die with me,
but that's not what my last wish is-
My last wish;
"I just hope you can live without me."
If I see you on the other side,
well that means you didn't listen to me.
It means though that you followed my screams,
and that; I am really glad someone finally heard me.
It seems your too late,
and the hourglass's sand has sent me away.
My life will always still be here,
just in another place where I am free.
There is one thing you will always have,
and that is my heart;
even though you were too late,
I still love you, even though it hurt.
So this is my good-bye wish,
and I hope you cherish our last kiss.
It will be there forever,
and I will await the day we can be together once again.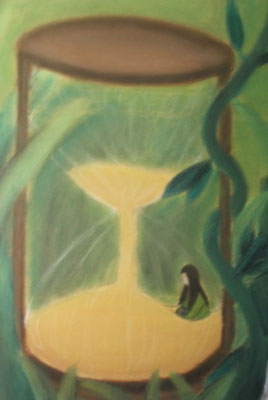 © Carollynn G., Hawthorne, NY