Cinderella hesitates
April 22, 2012
Cinderella stood
Watching the clock,
Every tick perfect in rhythm
With the beats of her heart
Which were so magnified
That it hurt her throat

"Am I doing the right thing?
Oh Lord!"
She prayed
"What am I going to do?"
She faced forward into
Eyes deep and distinguished,
Brimming with charm
For his new found girl

She could not say,
She could not share
Her sorrow and fear
With the only one she had,
Her new found prince
Who meant so much to her

"If only I knew
That I was doing the right thing,
If only I knew
What I was supposed to do"
Fervently wished
Cinderella
Floating in her prince's arms

"Should I expose to him
Who I really am?
Is it a moral crime
To fake my identity
And cheat the ones
Who trust without a second thought?

Why am I doing this?
For whom am I doing this?"
She thought desperately
"For me? Me only?
To fulfill my selfish needs?"

It was like
Stepping on a swaying rope bridge
And keep looking back,
To wonder whether it was right
After wishing for it.

The clock struck
Twelve

Her hand flew to her throat

She was not ready,
She will not be
Even if she had known
For a hundred years

Yet, she acted in a flash
By fleeing down the hall,
She stumbled to the garden
Spilling tears down her cheek

Sprinting through the bushes,
The luxurious flowers,
The outstretched arms
Of the trees and the plants,
She lost her choker of pearls
And her crystal slippers
Her hair was all undone,
Her frills torn and pulled,
To be exact
She looked her old self
Who stood by the coal pot

She could hear and feel
Her faithful prince
Following close behind
Wherever she hid
She could sense
A huge dark shadow
Engulfing her whole,
For she could hide from the prince
But not from her own self

Cinderella realized
That running away
Made things a thousand times worse,
So she sat down by the water
And tried to work things out

"I could have spoken
When I had the chance"
Thought the poor girl

"What am I afraid of?

If his love for me was true and strong,
Then he would accept me,
As I am

Oh!"
Self realization broke over her
"The truth
Which my mind had tried to hide
Is that
I am actually ashamed
Of who I really am!

If I cannot accept myself
I cannot ask him to accept me,
If I do not wish to be myself
Then how can I wish
for a happily ever after?"

"I should have gone to the ball
Not as a glittering princess
But as my poor self,
He would have danced with me
If he had cared for my brave heart
And not for my polished face"

Come over with emotions
Cinderella sighed,
She lifted her soft face
And looked up at the moon,
which sailed in the ocean of night,
Carrying the maiden dream she just lost.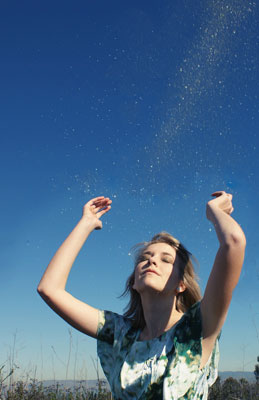 © Haley S., Long Beach, CA