Depths of the Ocean
May 17, 2012
One day I decided just to sit,
And watch the waves on the ocean.

They were small, gentle waves that swept onto the shore at their leisure,
Pulling away with the same finesse.
The setting sun glistened off the water,
Creating a mirror that spanned to the far corners of the earth,
Reflecting the brilliant colors of the sky.
In this mirror, the sky was endless,
Pruducing intense shades of orange, purple, and blue.
The water stretched up the beach,
Making its way to my feet,
Running its cool fingers over my toes.
The waves were a soothing symphony,
Their swell and crash resounding like symbols,
The pull like the pounding of drums.
It contained all the wonders of the world,
Buried in its vastness,
Gone forever.
Sitting there,
Taking in its beauty and power,
I felt like a tiny speck in the universe,
But maintained a sense of inner peace,
Of purpose,
That radiated from my core and crept across my skin.
The magnificence of the water overtook me,
And I saw the true beauty in that fearsome sea.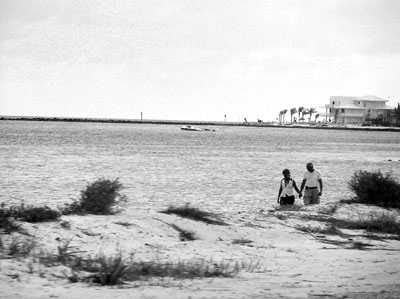 © Edgard B., Coral Springs, FL