Some Doctrine
May 19, 2012
Wind is flying through mountains. A comb
Shuttles through hair as a loom. Cloth
Is not created from death. Not life either. Just thread.

We cannot look if we cannot see.

Looking is an unfortunate term, or
To be more exact, inexact. It can refer
To find as well as see and they are not
Fundamentally related.

A chair scrapes back and forth on
A wooden floor. Scratches not not unlike
The gouges in your face. You didn't cry.

We cannot find if we cannot see.

Find implies some sort of active action.
We are not always looking for answers. Sometimes
We are just trying to uncover. It can refer
To have found as well as look.

A leaf falls from the sky. It likes to pretend
It's pretending to be a boat. Air is like water
In that you eventually have to drown down to the bottom.

We cannot discover if we cannot see.

The misleading thing about discover is its pretense.
It likes to think it is about exploration rather than removing
A cover. It likes to think it is about sensing. You have
To see to take the cover off.

A mother hands a child a comb; she takes it back, brushes.
The girl cries even though it does not hurt. The mother
Does not understand that the girl simply does not want her to end.

We cannot search if we cannot see.

Search: it works better. It refers to looking without passivity,
Finding without its aggressiveness, none of discovering's pretense.
At the same time, see might be better replaced
With a word that refers to internal eyes.

A world apart, two pebbles fall into place and the whole pile
Collapses into sand. She is not sure why, but she records it anyways.
Eventually the sand will become concrete.

We cannot search if we cannot know.

Knowing does not necessarily relate to knowledge
Already acquired. Instead, the ability to know is about
The drive for curiosity. It suggests that the action is still ongoing,
Like a crossed-out progressive tense.

He sprays graffiti on the walls of the overpass. He knows exactly
What he's looking for but hasn't found it. He doesn't know
Where the overpass concrete comes from.

They cannot search when they do not know.

The replacement of cannot with do not suggests a very important shift
In the characters. Their ability to find the truth of the basis for a search
Has already been established. The question here
Is whether the basis, too, has been established. It has not.

Cars zoom past. Each driver is completely and totally unaware
That underneath him there is a boy working on a girl's noted concrete.
Unaware that underneath him the next Mona Lisa is being created.

They do not know. They cannot search. Eventually they will look, find, discover
And give accolades. Unfortunately, the time
For the insatiability and curiosity of the search will be forever lost
An opportunity vanishing underneath their Japanese tires.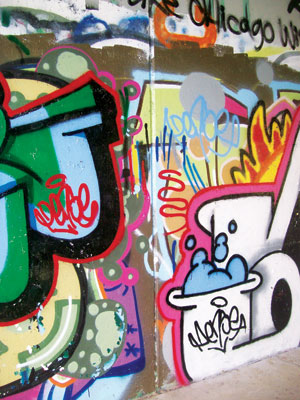 © Michelle W., Ada, MI