The Caterpillar That Grew Wings
June 11, 2012
I sat by my window
On a gloomy, rainy day,
And found a little caterpillar
Inching away.

I thought I'd never spot this pintsized creature,
But she decided to pay me another visit.
She paid no heed as she munched on my milkweed,
But I was mesmerized by her rainbow stripes, so exquisite.

Day by day,
She stayed longer,
Eating the leaves in my garden,
I only grew fonder.

But one afternoon,
My tiny friend didn't arrive.
I sat by my window, scanning my garden.
Wondering whether that little critter was still alive.

I waited for my caterpillar,
I watched as my milkweed grew.
As the holes in its leaves began to heal,
I forgot about her as the days flew.

One morning my caterpillar returned with wings
And had learned to fly.
Gone were the rainbow stripes,
My caterpillar had become a beautiful butterfly!

My butterfly was young.?
Her vibrant wings of delicate lace were to give
A reminder to the rest of the world
That her beauty was only short-lived.

She tried to make the most of her tiny life,
Flitting and fluttering from flower to flower,
For she did not have many things to cherish,
Except the sweet nectar she devoured.

She began her struggle
Grasping edges, petal to petal.
A strong gust of wind nearly blew her away,
I was in awe of the butterfly's mettle.

I haven't seen that little butterfly since,
But I'm still waiting for another gloomy, rainy day,
Where I can find a little caterpillar
Inching away.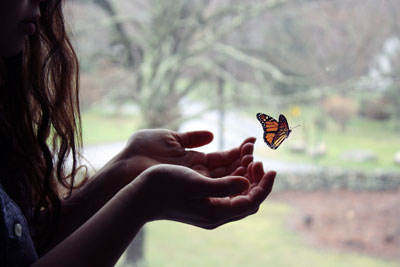 © Sandy H., Woodbridge, CT