Raining Colors
June 13, 2012
An icy wind breaks through the raining rainbow.
The raidiant colors flood the earth.
Glowing yelklos, warms oranges, and vibrant greens.
The sky weep it's colors, yet it's unavoidable by all.
No matter where you go you can see the sky's colorful tears.
There's no sun, no moon, the only light comes from the multi-hued droplets.
No wind will blow, and no life will grow.
All that exists in the cold world is a faded shadow of a rainbow,
but even it is broken and falls.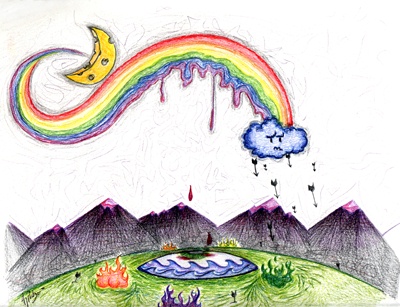 © Alexa P., Ridgeway, PA