Beautiful Abyss
June 8, 2012
Failure is a destructive but alluring sun of brightly concealed taunts.
A massive and molten dream that expands throughout the darkness,
Sending rays of passion out beyond.
It grows every hour with a stellar light to blind from the destructive intent.
It reaps the benefits of a lonely life,
Casting away and then pulling into a submissive orbit around itself
In the futile idea of isolating the soul from change.
And then the radiant and growing, growing hope.
So large that nothing could escape;
Nothing could pry open that fiery grasp until…
Collapse.
Sudden enough from passion to disaster that all direction is scattered
And the flecks left of desire and persistence fly into a supernova of crushed prospect;
Colorful purpose never to be made sense of.
Or the mass is pulled in by its own gravity,
Far too big for the mind to comprehend.
A black hole left in wake of the trust that once had been.
Or a nebula nursery to raise terminal hope again.
And suddenly beyond is no longer bright but abyss;
To those who dreamed, failure is this.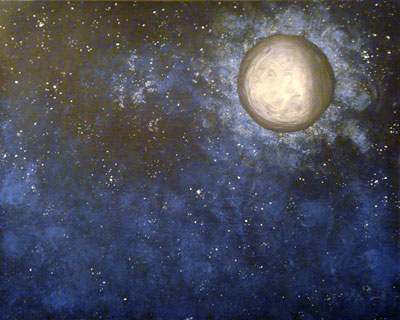 © Allison H., Vancouver, WA