Maybe I'll Keep Her
July 18, 2012
Today I caught a Hannah
At about 11:30 pm
She was lying with her head in my lap
Smiling up with a big, goofy grin
Splattered across her face and shining in her eyes.

I hope her freckles always multiply in the sunshine
And I hope she doesn't mind
When I fondly call her Tomato
After she burns on her track-and-field races.
I hope she stays this way.

I hope she always hugs me that tight before I leave
And reads through the lines to see
When I say we should put on our coat because the teacher is watching
It means I am cold
Like she did in elementary school.
I hope she squints her eyes when she smiles really wide.
I hope I can always make her smile like that.

I hope she never stops dancing in her room
Or dreaming of travelling far from the big cities
To the wide open spaces
Which still won't be as vast as her heart.

I hope she snorts when she laughs
And eats ice-cream in a cup.

I hope she dreams dreams as big as the goddess she is
Humbled by her giant heart
And quirky ways
And I hope she always likes the original Alice in Wonderland better.

And if she doesn't
I really won't mind
Because it was about 11:30 pm
And there were eight of is in Savvy's trailer
And all our hair was still a little damp from swimming
As we giggled and gossipped
The way best friends do.
She put her head in my lap
And smiled that goofy, goofy grin
And I said
"Look! I caught a Hannah!"
And I knew it was true.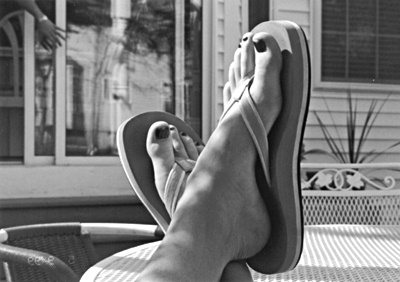 © Alexa S., Marblehead, MA