Seventeen Years in Review
MAG
July 21, 2012
My friend,
This is 17 years in review.
I want you to have telescopes for eyes
To look past the cloudiness of the skies
And nod slowly when you finally
See the things that you know were never there.

she put our mind games
and secret languages to bed
tucked them under the covers,
murmured a good night or something like that
pulled a gun from under her pillow
a cigarette from behind her ear.

Bailey's is sweeter over ice
Bug's Life is funnier with Bailey's
The couch is sweaty when we watch Bug's Life together

The shortest route is 2,303 miles
If I said I missed your belly button 2,303 times
would that open the Los Angeles Times on your coffee table
to the article of the boy
that tried to smell the tornado
months before it came

The man with words stuck in honey
With grubby fingers, rubs his round belly.
No one knows he gets his strength from the
Nugget of warmth
Tucked behind his lower lip

Can I kiss you
Somewhere secret, hidden in your right brain
So it doesn't have to be
logical, sequential, or rational

It wasn't your bobbing throat
Your droopy eyes
Or your disgusting earlobes.
I just don't want your mother's boyfriend's sister's leftovers

Flaccid chicken skin on the fridge shelf
cheap wine looks wimpy in a snowman mug
dinner is served

a bike ride is the best medicine, I say
almost buzzes as good as the high after a run
but of course there's always slow dancing in Somalia

You taught me how to whittle sticks on the guitar
My shoes were still wet
I played it back to you on the piano

Feeling fat on a Malaysian jungle cruise
is not something to be missed.
Falling asleep next to our anchored, clammy hands
is

My darling,
That was not 17 years in review.
Get microscopes for ears
Because there's nothing you need to hear
That isn't the deep resounding, confounding, bounding
breath that is inside of you.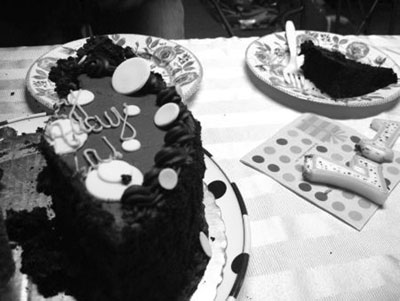 © Carolyn K., White Plains, NY