Silence Is Of the Essence
July 23, 2012
Quiet.
That's it.
Every day.
Just quiet.
No birds chirping.
No children laughing.
No sizzling of steaks on the grill.
I don't know what people say to me.
I don't know what people say about me.
If they don't know,
they just go on on and on.
What do I do?
I sit there.
Watch lips move,
and wish I could do that too.
Say those sounds.
Say them right.
Say something.
Anything.
I can only write.
Only write,
and make signs with my hands.
Momma doesn't know if I'll get better.
She doesn't know that I look for cures.
I look for cures everyday.
Everyday,
this Internet saves me.
It's horrible,
when there's false hope.
Hope rises up,
up,
into the air like a hot air balloon.
And then the fire goes out.
And you go falling down to the surface.
People don't know how hard it is.
How hard it is for me.
For everyone like me.
They don't know what it's like.
I can't do anything with my mouth.
When I speak,
it sounds
different.
But I wouldn't know anyway.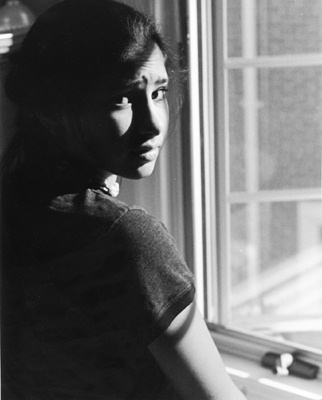 © Jennifer H., Bethesda, MD