Captivity
August 10, 2012
A lion,
born under lock and key.
A slave to the cage, never knowing the better.
Once granted a gift beyond imagining;
the lock broken, the door wide open.
Everything it never had a chance to wish for.
Freedom. Sweet freedom that would never fade away.
Or so it thought…
Capture.
Once again dragged inside and trapped.
Every day it dies, longing for the taste of freedom it once had.
Shutting out, pushing away any other pleasure it had taken from captivity, before it had been shown there was something more.
Taken advantage of, this frail cub would have been better off never knowing:
perfectly content inside its solid bars, finding joy in the rare rays of sunlight streaming through.
Now they symbolize beams of depravity.
And the lion paces, unsatisfied.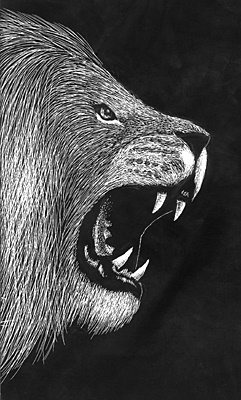 © Russell W., Alpine, UT