Drunken Christmas Carol
August 20, 2012
Gather round, children, and don't ask why.
For the story you're about to hear is not a lie.
So open your ears, and huddle tight.
This is the tale of the worst Christmas night.
It's a story of action. A tale of thick and thin.
With some occasional insanity thrown in.
You won't hear about Frosty or Rudolph, I know.
You may get a good laugh out of it, though.
So listen close, and join me in the peril.
For this is a Drunken Christmas Carol.

So I came home one night, with tingling skin.
You see, I had just downed four gallons of gin.
I found the remote and plopped on the couch.
And wouldn't you know it, the TV is out.
So, in my stupor, I called up my babe.
Asked if she'd come over to "entertain".
She said sure, as if she would.
And this is when the story really gets good.

After 30 minutes, she didn't show.
So I trudged out into the new-fallen snow.
I finally arrived at the door of her place.
I knocked, and when she opened, this look crossed her face.
A look of confusion. She seemed so cross.
Probably because I was a little off.
So we talked for a while. We talked for a bit.
At least, I think. I don't really remember it.
So I say, "Hey baby, can I come inside?"
I didn't know, but I was in for a hell of a ride.

I enter her house, and things weren't already right.
I knew was going to be a terrible night.
After a while, she became distraught.
And I was fueled by booze, so we fought.
We fought in the kitchen. We fought in the hall.
I swear, her heart was ten sizes too small.
We fought forever, that much I know.
By the end, her face was redder than Rudolph's nose.

I needed something to make her stop.
So I grabbed the phone and told her I was calling the cops.
She jumps on my back and wrestles it away.
It was at that point I knew I couldn't stay.
So I walked out the door with no remorse.
Four gallons of gin in my body, of course.

As I stumbled through the streets, I saw a man in a hat.
I stopped him, and we started to chat.
He had a white beard and red, fuzzy suit.
He looked like the kind of guy you just want to shoot.
But he gave me a look, a look oh so think.
And that's when I realized. This was Saint Nick.
We didn't talk much longer, but while we did, he was sweet.
And when he left, he dropped a present by my feet.
I opened the box, and made a wish.
And it came true. Inside was a new TV dish.

So, now you know my tale of the worst Christmas night.
It didn't make much sense, and there was even a fight.
But to be honest, I don't care what you think.
Now, I've got 6 gallons of gin to drink.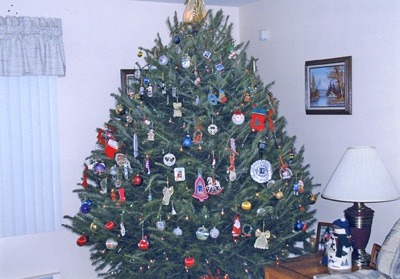 © Brian N., Mildford, CT