Crimson Piano
August 20, 2012
Waiting here in hopelessness
Trying to inhale your breath
Nothing really remained
After your meeting with my devil

Your soul is pure and sinless
Not mine – who turned you speechless,
Your leave tortured my heart
And bathed my body in your blood

Seizing your twittering by the piano
You rush through the crimson keys!
Through the sharp sounds rising towards me
I was connected to your world

Soaked in wet, I hear the bell!
It's perfect for our reunion
Emancipating myself on the piano
The fire will end everything!

The morning rain will send us to the earth
And bury us once again.
I'll be a part of you, and you'll be mine
And we'll always be together again.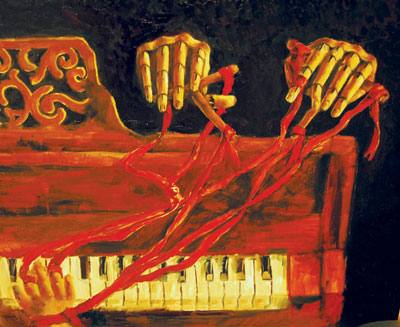 © Bonnie S., Fremont, CA